The world's most affordable and portable teleprompter – even better!
Completely redesigned, thoughtfully re-imagined and still reinventing the way we make video. The Parrot Pro is a major improvement on the original patented design. Back this project.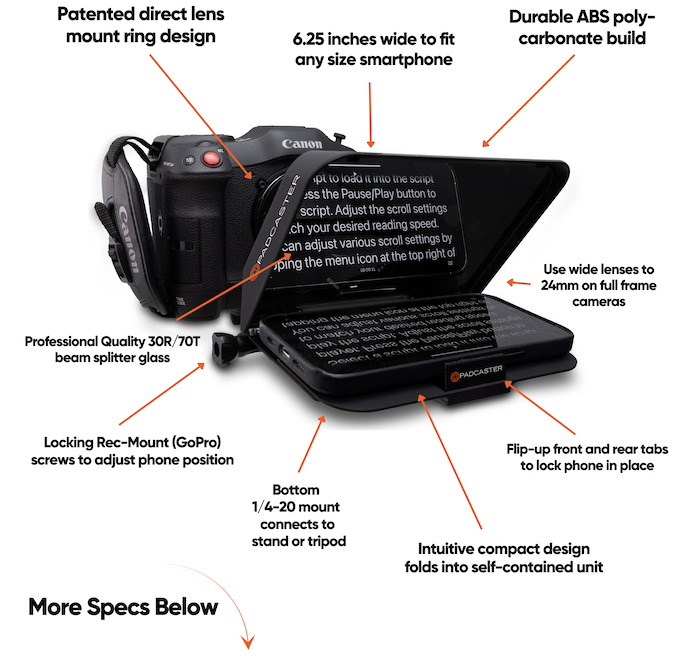 Tell your story better and faster! Speak naturally while looking right at the lens and connecting directly with your audience.
Made by the team at Padcaster, The ALL NEW Parrot Pro is a patented, ultra-compact, rugged, simple to use Teleprompter that transforms any IOS, Android smartphone into storytelling powerhouse.

Loved by customers all over the world, The Parrot Teleprompter has been praised time and again as an essential part of any video creator's kit!
In CNBC news studios, travel vlogger backpacks and everywhere in between, The Parrot Teleprompter has been called a, "Must-have accessory," "A game changer for content creators," and "The best hundred dollars I've ever spent!"
Here are just a few of the many glowing reviews The Parrot Teleprompter has received over the years:
Take a closer look at Tech Audit TV Review of The Parrot Teleprompter
And this phenomenal review from Ripple Training
How it works!
Imitated but unequalled, the Patented design makes using a professional telepromopter intuitive and easy – you'll be ready to roll in less than one minute!
Screw the Parrot Mounting Ring on to the front thread of almost any lens.
Slide the Parrot Pro down over the ring until it locks in place.
Lower the front cover – also the smartphone clamp – and deploy stabilizing tabs.
Insert your smartphone and tighten the clamp unti your phone is secure.
Launch our FREE Parrot App for iOS or Android, connect our Bluetooh Remote and roll camera!!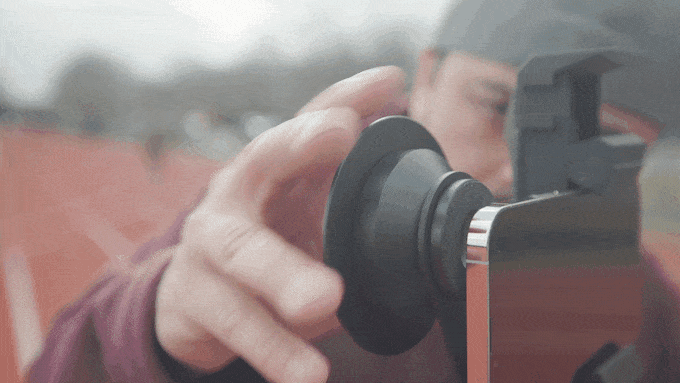 Parrot Pro Teleprompter Specs
The Padcaster spent 5 years collecting feedback from their users and redesigned the Parrot Pro from the ground up to make it last a lifetime. The Parrot Pro comes with a lifetime warranty!!
Ultra compact professional teleprompter
Fits any smartphone or monitor up to 4.2 inches wide (check specs)
Measures approx 6.5×5.5×3 inches
Attaches Directly to lens filter thread with Patented Direct Lens Mount System
Attaches to a stand or tripod with integrated 1/4-20 Mount
Professional quality 30R/70T beam splitter glass
Made of coated, durable ABS poly-carbonate
Includes custom padded carry case
Packs away as single self-contained unit
Compact Design For The Pros
Most professional teleprompters cost thousands of dollars and require tools & effort to set up – an expensive, time consuming headache that gets in the way of your creativity.
The Parrot Pro uses the same 30R/70T beam splitter glass as teleprompters costing ten times as much. With a setup in under one minute, you're ready to roll faster with technology that's simple and intuitive.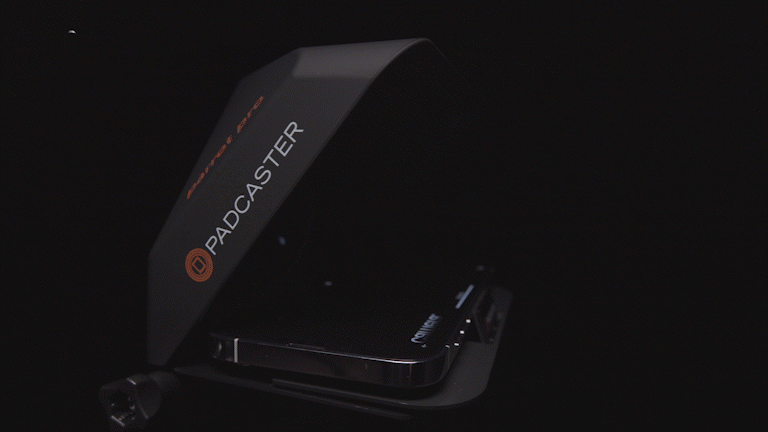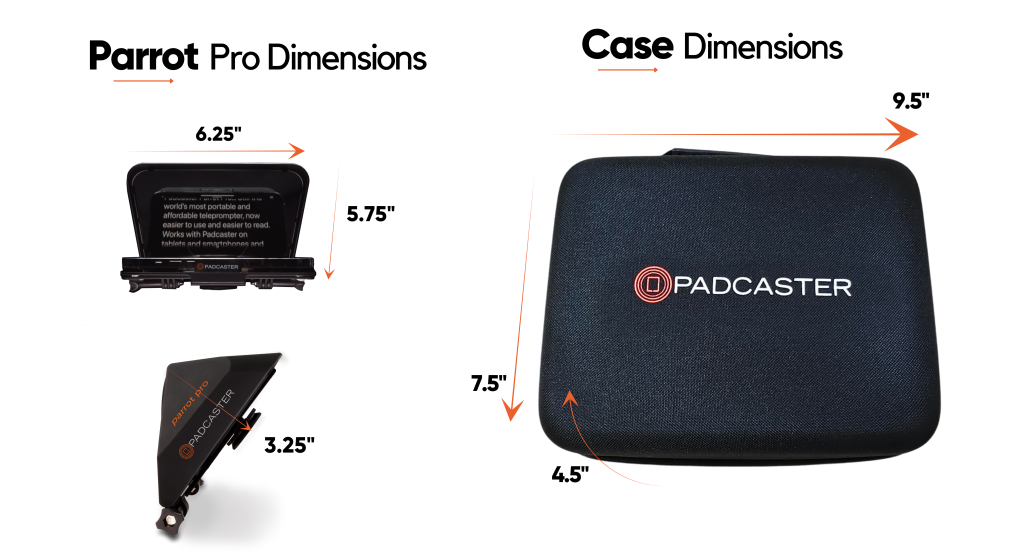 Engage Your Followers
The ability to engage with an audience by looking directly at the camera without memorizing lines is invaluable. I didn't just design it, I use it every day!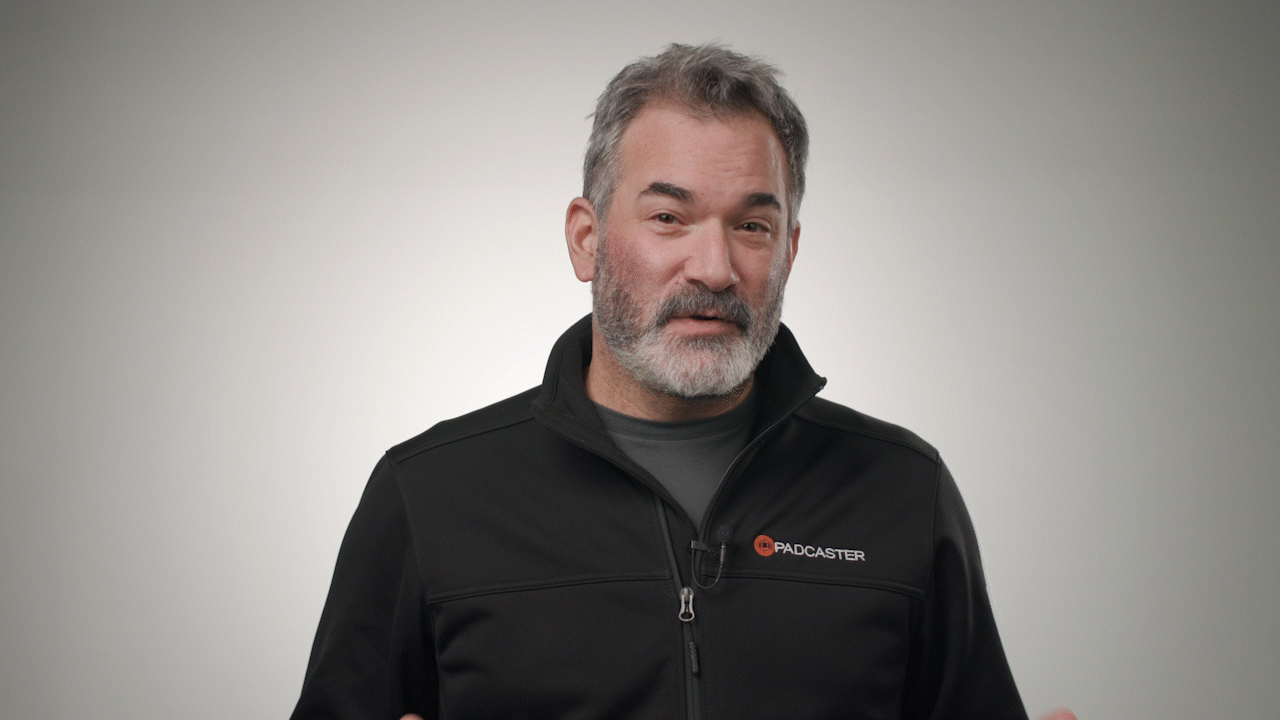 Works With
Not only does the Parrot Pro work with your favorite smatphone, it works with almost any phone out there! From the smallest mini to the largest MAX – even those folding models work – the new Parrot pro will securely hold any phone (or portable monitor) up to five inches in depth.
How to get this deal
The Parrot Pro Teleprompter is for content creators who eager to connect with their audience at a personal and professional level – YouTube creators, TikTok, Instagram, Facebook Live and much more. Get it NOW before it's gone!
Review overview
Summary
10 tech score The Parrot Pro Teleprompter is the best prompter we've tested. An unbeatable premium design that is unmatched in terms of qualities and capabilities. Works iOS, Android, Mirrorless Cameras, Laptops and is easy to set up. A perfect tool for content creators who are eager to connect with their audience at a personal and professional level - YouTube creators, TikTok, Instagram, Facebook Live and much more. A solid choice!!!