The Bio‑Hybrid is the easy way to get from A to B. Quick, no fuss and flexible. Human-powered – but electrically assisted. Stylish, contemporary and digitally interconnected. A pedelec bursting with smart features. The Bio‑Hybrid – for moving people and commercial goods. One idea. A range of versions. Which is the right one for you?  
A winning combination
A bike or a small electric car? The Bio‑Hybrid is a combination of both. Four wheels, a roof, electrically assisted. Zip past traffic jams with no fuss, simply because you can. A pedelec that requires no driver's license. A new class of bike available in two versions. Both cool, one a new form of personal mobility in the urban setting, and the other a solution for the emissions-free transportation of goods. Capable of a whole range of uses.
Getting you and your friends around town
With the Bio‑Hybrid DUO, you'll experience your city in completely new ways. No driver's license needed, and all the more fun for that. And why travel alone? There's plenty of space to comfortably sit a passenger. And the copious storage space means you can take all your stuff, too.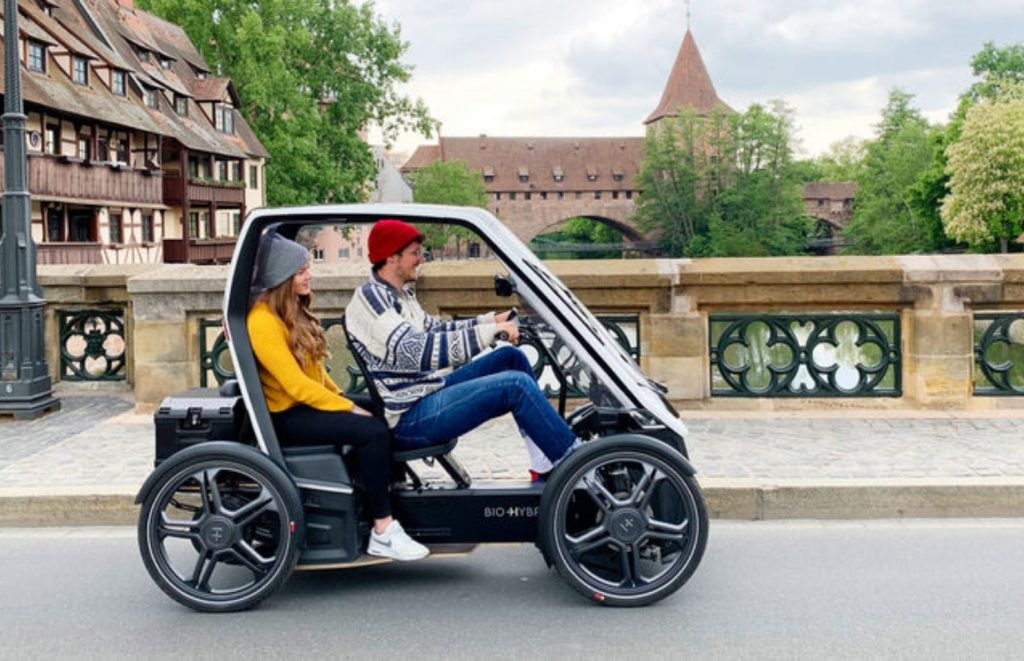 Moving your deliveries right past the jams
The Bio‑Hybrid means getting stuck in traffic and double parking are things of the past. No matter if it's parcels, groceries or spare parts – with the Bio‑Hybrid you can make your deliveries, while exuding a modern, urban attitude. As a pick-up or with a closed storage box, it doesn't matter. The cargo bike will take your business to the front of the pack.