It's incredible how fast technology is accelerating and so are earbuds! The Palm Buds Pro has a new design, new features, are unique and are insanely affordable. Not only do they seal the ear but they also provide active noise canceling capabilities (ANC: Active Noise Cancellation) that are incredibly powerful. I know that when I used them throughout Philadelphia transit they blocked out the excessive noises around but I could still be mindful of my surroundings.
When we inquired about the Palm Buds Pro online from the company, their representatives were pretty fast at responding to our request and the shipping was a bliss. I am not sure how fast you will get your Palm Earbuds Pro when you purchase them, but we received ours within 2 days of shipment; the package came in very well wrapped with 2-Day express tracked shipping from FEDEX. We received a tracking code and were able to see where they were on the map. The outer packaging is also very sturdy and locks in like a box. We decided to keep the box; it's pretty cool and it keeps the buds protected when not in use. Below is our honest review of the Palm Buds Pro without Photoshop galore but instead genuine feedback for genuine people!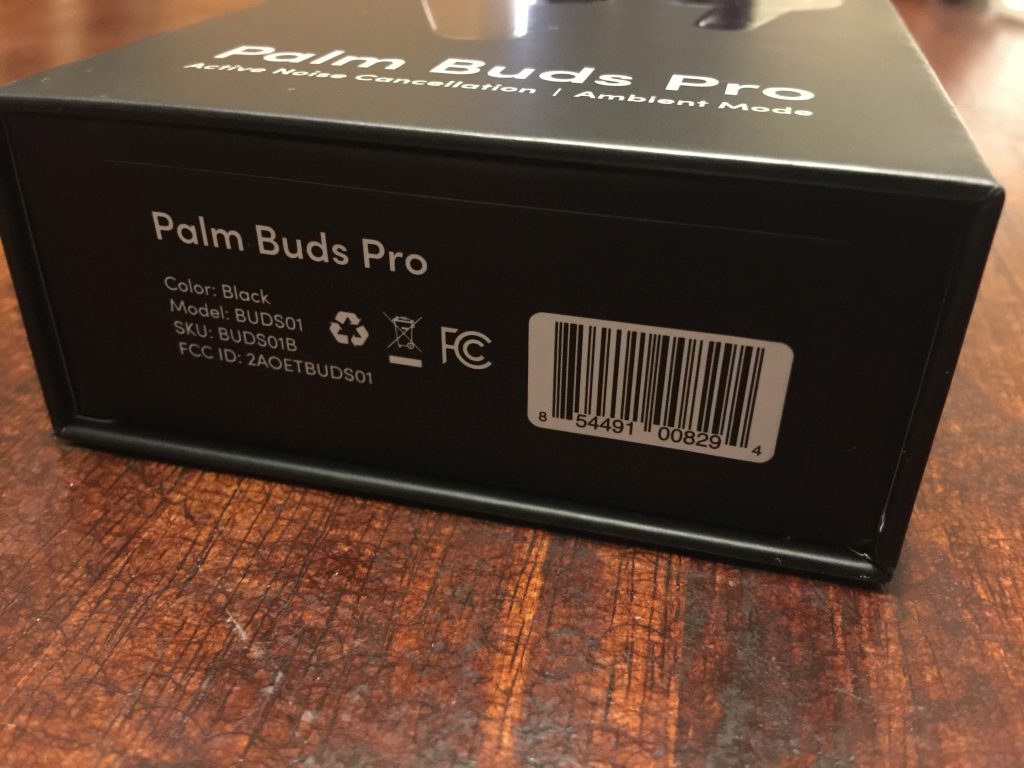 Let's dive into the Palm Buds Pro features and capabilities:
Noise Cancellation:
After using the Palm Buds Pro for a while we are extremely impressed with the effective noise cancellation feature; they reduced the unwanted ambient sounds using active noise control. Imagine being a frequent traveler; good noise-canceling earbuds will make any journey far more pleasant, whether you are traveling on a plane, bus, rideshare or train. Even after taking a 12 hour flight, I'm not nearly as tired on arrival as I used to be. Thanks to the Palm EarBuds Pro, I can now blur out excessive background noise while still being aware of my surroundings. I also took them on a bike ride around the neighborhood and they were effective at blocking most of the traffic noises while still allowing me to hear the cars driving by; it's amazing! The last thing we tried and what sealed the deal for us was when we took them for a trail hike. They provided a long lost inner peace with my surroundings! Grateful…
Here is how they work: the Palm Buds Pro monitor the sound around you, preventing the unwanted noise from ever reaching your ears. They capture the outside noise frequencies and emit the exact opposite signal to effectively "cancel out" both sets of sounds when the sound waves collide, which is pretty impressive!
Clear calls:
It was a bit challenging to get used to using The Palm Buds Pro for intercepting calls! At some point I did hang up on my brother in law (twice) and we laughed about it. But that's just because I didn't read the instruction manual (which you should do – Ha!)
The Palm Buds Pro call quality is clear with a hint of sharp bass feeling. This has more to do with the way they are designed. I felt that the tight seal around the ear was very helpful during a train trip to the city for work. I usually hear the loud bangs on the train but this time it was minimal and more of a bumpy vibration than a sound. We will have to do a frequency test in the future to compare The Palm Buds Pro with other buds on the market today (we do intend to do a side by side full review comparing them to Apple AirPods Pro).
Our Environmental Noise Cancelling (ENC) technology drastically reduces the noise heard around you during calls in even the loudest environments. Calls are always crystal clear whether you are on WFH video calls or in downtown hustle and bustle.

Palm Buds Pro
The Battery life on The Palm Buds Pro lasted more than 24 hours during our objective testing with ANC (Active Noise Cancellation) on, and longer than the 24 hours and 50 minute measurement with ANC (Active Noise Cancellation) off. The Palm Buds Pro claims it should reach about 24 hours though this varies with volume levels and how many software features you have enabled during use. Their website statement is true about the time.
We have optimized the Palm Buds Pro for size and battery life. On a single charge, you can enjoy up to 6 hours of continuous playback, with an extra 3 charges boosted by the battery case. Imagine all the podcasts you could binge over a 24+ hours period.

Palm Buds Pro
Eartips Bonus!!
I have to be honest, it's really hard for me to find the right size earbuds that actually fit; the ones I had before either didn't fit or they quickly fell out after a few minutes of use or movement. Sizing is obviously different for each individual and for the me the smallest eartips that they included in the package fit perfectly. I can run, walk, and do all kind of activities with the The Palm Buds Pro on and they stay in and won't budge.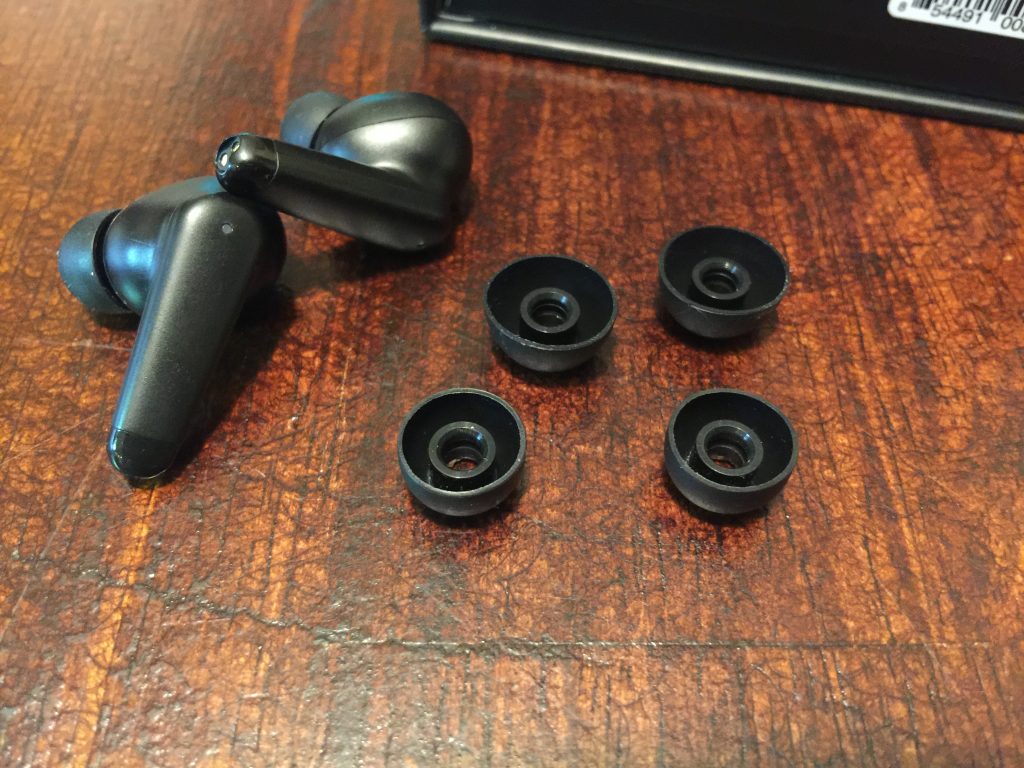 Inside the box you'll find extra sets of eartips and rest assured that they are different sizes. Forget the old notion that one size fits all; with the Palm Buds Pro you can quickly switch the eartips and find the correct size that is tailored to match and suit your ear structure.
Microphone Quality:
I've been following most of the review threads about different buds on different platforms while trying to figure out what's the best microphone quality these days, and I especially follow topics on how the majority of us now work from home and spend a decent amount of time on the phone with clients. We all MUST have a good microphone to transmit a good sound without any fuzzy or blurry cut out calls.

Given that Palm Buds Pro has 3 individual microphones per bud, more than other pricier buds. They work in unison to block out unwanted noise for crystal clear calls anywhere or to immerse yourself in your music. Don't believe the hype? Take a listen here for a test run I did:
Charging Case:
The Palm Buds Pro Charging Case is satin black and is of a great quality. With the Earbuds in, it weighs 38 g / 1.3 oz and without them in, the case weighs 29 g / 1.0 oz. If you do the math, the actual buds weigh in 9 g / 0.3 oz (incredibly light!!!). Inside the Palm case, there are notes about the voltage use (DC. 5V/1A), model number, recycling instructions, and markings for left and right charging outlets so it's easier to remember which goes where. The buds themselves are also marked with R (for right side) and L (for left side).
Lightweight:
The The Palm Buds Pro are true to weight as indicated on their campaign. They have a signature finish and minimalist design that makes you almost forget they are in! We have also found them to fit in our ears better, and are a little easier to wear; please make sure to read the mark on each ear piece for Left and Right marks. They're very comfortable and stay put and in their respective positions while in use, better than other Air Pods we have tried in the past. They are sweat and water resistant which makes them perfect for any and all outdoor activities i.e. workout in the gym, jogging, or simply walking around the park. For technicality purposes we were able to weigh them (just like mentioned above) and with the earbuds in the case, they weigh 38 g / 1.3 oz and without them in the case they weigh 29 g / 1.0 oz. If you do the math, the actual Buds weigh in 9 g / 0.3 oz, which is incredibly light!!!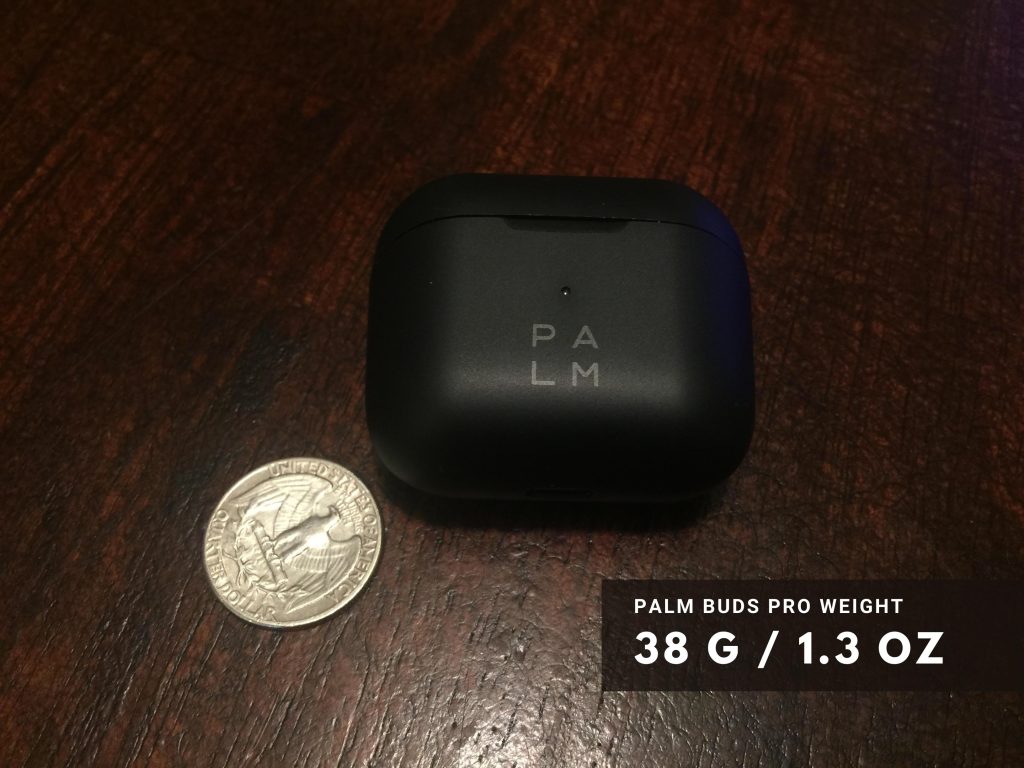 Compact:
Compact means that they closely and neatly pack together. The Palm Buds Pro are so small they will fit in your palm. It is worth mentioning that I use the Palm Ear Buds pro case as a therapeutic mechanism to help with my anxiety. How? Well, let's see! The case is made of a glossy soft touch material that feels really good to spin around, and the corners are smoothly shaped with very few distractions. Since I received them, whenever I'm in a meeting, I use the case to help me focus. The spinning provides a distraction or sensory stimulation that sure has helped with my mental state during conferences! At some point, some of my co-workers noticed and made a comment about how cool the case was and asked where to buy them!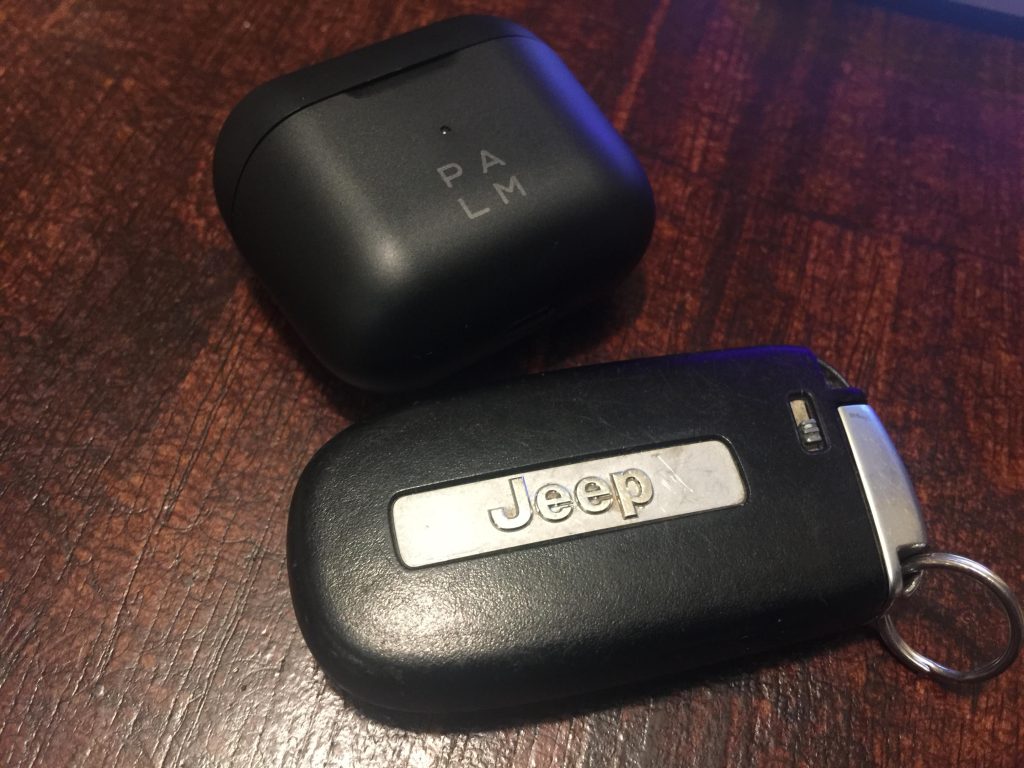 Price:
The are some differences between the AirPods (3rd generation), AirPods Pro, and the Palm Buds Pro reviewed here. The AirPods Pro have an active noise cancellation, which is lacking in their older model and still exclusive to the pricier model, but the new Palms Buds Pro offers the same capabilities as the AirPods Pro with much improved features compared with Apple's long-stemmed second-generation AirPods. This of course without the hefty price tag of $249.
| | | |
| --- | --- | --- |
| AirPods (3rd generation) | AirPods Pro | Palm Buds Pro |
| | | |
| $179 | $249 | $99 |
Durability:
While there's no denying that the Palm Buds Pro are fantastic, we haven't had much time to see how durable they will be over time, but their build and construct is phenomenal; the minute you hold them, you could tell the quality. The glossy satin finish, and sturdy yet lightweight body makes the Palm Buds Pro less conspicuous when worn.
How good are they at canceling noises?
After using the buds around the city, in a train, during a flight, and walking in the park since we have received them and found that they have performed better than anticipated, I decided to try them on while working in our driveway dismantling some wooden pallets with a sledge-hammer, a saw, and a hatchet making raised garden beds for next year. If you do some heavy labor and it's loud where you work, we recommend them!
With an advanced 6-microphone system (3 individual microphones per bud) which powers the most immersive sound experience, and provides the clearest calls in any and all weather conditions, The Palm Buds Pro are true to their calling.
Palm Buds Pro Video introduction:
Palm Buds Pro video introduction: On an airplane, in a crowded place, or working from home? Immerse yourself and focus with our 6-microphone active noise cancellation system, with more mics than other pricier buds. They block out unwanted noise for crystal clear calls anywhere and immerse you in your music.
Human Diaries Verdict:
Let's not beat around the bush, if you are here to read the bottom line of what we think of the Palm Buds Pro you will be pleased to know that we LOVE THEM! We definitely recommend them for our readers and everyone who's looking for quality buds without the price tag that comes with other brands on the market today. We have owned and tried the expensive stuff before and while they can be great too, there is absolutely no doubt in our mind that The Palm Buds Pro is of similar or superior quality that will surely last you a lifetime. The price of the buds pro is now $99 on both their website and Amazon sellers center, instead of the original listing of $129, so make sure to grab a pair while you can @PalmBudsPro
Human Diaries is a lifestyle magazine that is fully supported by its audience. Thank you for supporting what we do. If you have a product that you would like for us to review please send an inquiry to: Postmaster@humandiaries.com
Review overview
Summary
10 tech score The Palm Buds Pro are the best wireless earbuds that we've tested. These sleek and premium in-ears have an active noise cancelling system that can block out an excellent amount of ambient noise around you. Comfortable, stable and a perfect fit. Works with both iOS & Android and are easy to navigate. A perfect balance of sound and weight, a solid choice!!!