FUELL Flluid is more than just an e-bike. It's a revolution in transportation that combines high performance with style and sustainability. 
The FUELL team has created a new way to move around cities and embrace electric two-wheelers.  Meet the next generation of powerful and stylish e-bikes — with the longest range in the world, extreme performance, and the revolutionary automatic shifting Valeo Cyclee Mid Drive Unit that will forever change the way you ride.
So get ready to zip through traffic in style and ride further than ever before.
Meet Flluid-2 and Flluid-3.
Your e-bike experience should be worry-free. Not worrying about running out of charge because you forgot to put it on charge the previous day.
No more keeping a constant eye on charge levels. Just get up, take your ride, and commute with confidence — knowing you've got the power.
Unlock a whole new world of two-wheeled exploration with the ultra-long range Flluid-2. Two batteries totaling an impressive 2000W capacity for a range up to 225mi (350 km), with assisted speeds ranging from 20mph (US) / 25km/h (EU) up to 28mph (45 km/h) depending on model and market destination. Flluid-2 is designed to take your electric cycling experience further than ever.
Flluid-3 is the long-range variant with 1 battery of 1000W for a range up to 110 mi (180 km) and the same speeds from 20mph (US) / 25 km/h (EU) to 28mph (45 km/h). It has a step-through design for easy mounting and dismounting. Flluid-3 is perfect for your everyday commute, with all the same impressive features as its ultra-long range counterpart.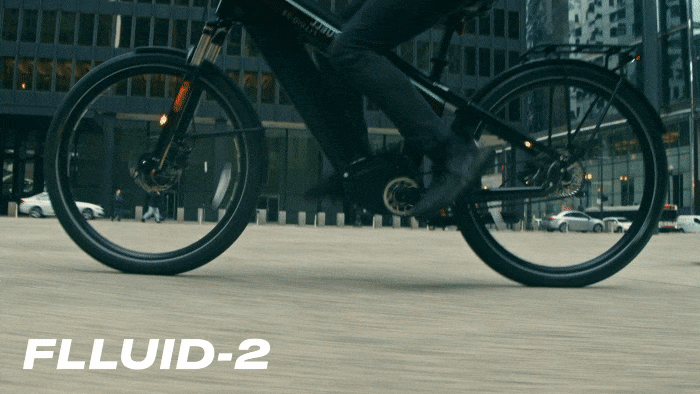 Flluid-2 and 3 are Class 2 / Pedelec e-bikes, limited (through software) in their max speeds so that they can be ridden in any country with no special requirements such as registration, insurance, or helmets.
For those who want to get more out of their e-bike, they also offer Class 3 / S-Pedelec versions — Flluid-2S and Flluid-3S. 
The S-versions are exactly the same e-bikes, with the same great components and features. But with unlocked software for higher motor power and max speeds. Depending on local laws, they may require registration, a helmet, and insurance.
Both S-versions (Flluid-2S and Flluid-3S) are available at no additional cost over the regular versions (Flluid-2 and Flluid-3). You have the option to choose between the two versions while supporting their project.